Yorkton Melville Regina weekend
Feb. 12, 2006 Sunday
Friday afternoon I had off work, and I went to the Yorkton art gallery on Smith St. with my friend Ashley and we got an impromptu tour by the curator of an art exhibit that was opening that night. We weren't able to make it to the 7pm wine and cheese opening with the presentation of the artist who's from Alberta. The topic of the display was the female body, and in the middle of the room were bronze and other castings of pregnant torsos. The walls were covered with torsos made of real lichen from Ontario, and plaster and paper mache which was quite disturbing with fake stitches mimicking an old mummified body. There was also an ancient wax painting technique with magnified skin from knuckles and scars.
On Friday night I watched "Interview with a Vampire" [8/10] which was very good and worth a 9 for some parts, and just a 7 for others. On Saturday I watched "Cheaper by the Dozen" [6/10] with Steve Martin and no Oprah when they said she was appearing later in the movie, but apparently were just using her name as a plot ploy. Then I saw "Starship Troopers" [7/10] which I'd seen before many years ago, but this time caught all but the first few seconds of the show. It has some very good special effects, and political propaganda humour.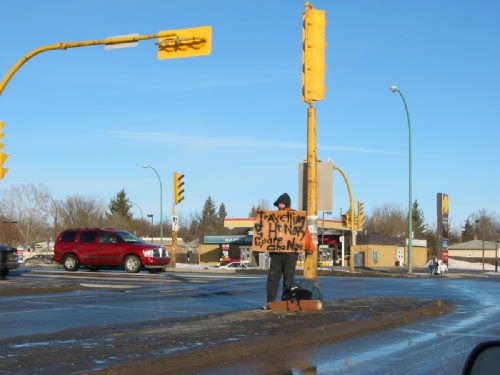 I ate supper in Melville at Dairy Queen and had a Choco Cherry Love Blizzard which was very good. The roads were a little icy from the blizzard we've had the last 2 days, although today was nearly perfect for driving.

I watched some of the Olympics today, inclusind short track speed skating. Canada has a gold medal in moguls, and a bronze in short track.
On the bus home from Regina, I was talking a bit about movies with the guy sitting next to me (the bus was so full some seats were two people side by side) and we both thought there's been no really good movies lately. I didn't even want to see anything at Rainbow today, so instead Rob, Brien, Peter and I went to Walmart and bought playing cards and poker chips, cleaned off the kitchen table, and played cards for an hour. I learned Texas Hold'em Poker, and Rob learned Poker, period. When we came out of Walmart, a
Snowbird
buzzed the parking lot, which was super cool, and I had to kick myself a little for not having my camera out and ready to take a picture of the lot like my spider senses had been telling me once I got outside.
Haloscan
|